Lisa Kudrow
The actress Lisa Kudrow was the first of the main cast of Friends to become pregnant. In preparing for the fourth season, the producers decided to show the pregnancy and incorporate it into the show. Phoebe Buffet had a fantastic tale to accompany it, of course.
Phoebe didn't plan on carrying triplets on behalf of her half-brother; she had a real baby bump. As a result, it became one of the season's most beloved storylines. Lisa remembers everyone telling her on the set: "Have a good show, love you, love you, tiny Julian!"
Gal Gadot
Gal Gadot was five months pregnant while filming Wonder Woman. Yet, she somehow still managed to do a lot of her own stunts and make the action-packed scenes look believable. A lot of that was thanks to the help of CGI. Gal wore a green fabric around her stomach while filming so that her pregnancy belly could be edited out in post-production.
The actress joked, "On close-up, I looked very much like Wonder Woman. On wide shots, I looked very funny, like Wonder Woman pregnant with Kermit the Frog."
Blake Lively
Filming was underway for Blake Lively's shark attack film The Shallows, released in 2016, at the same time that she was expecting the birth of her daughter, Inez. Filming while pregnant wasn't easy, with most of the shooting requiring risky stunts.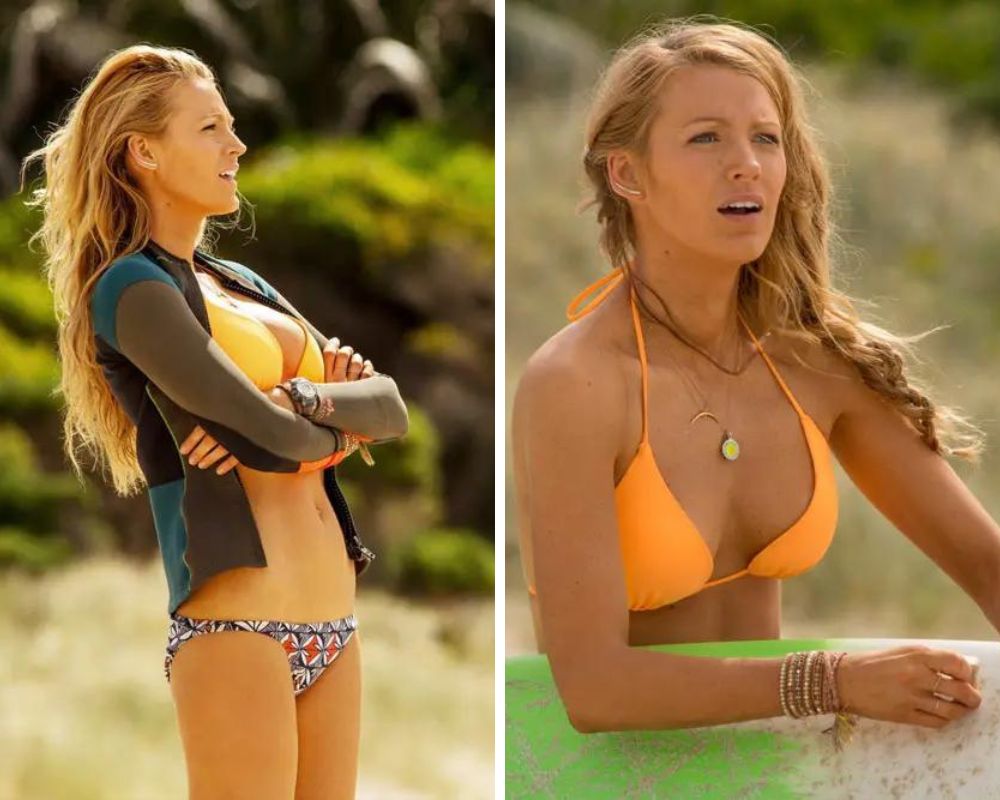 Blake said, "A stunt double didn't get hired until the last few weeks of filming." She added, "The filming was extremely stunt-heavy." Her baby bump was barely visible, even in swimwear. Some scenes featured a strategically-placed surfboard used to conceal her stomach.
Cynthia Nixon
During season four of Sex and the City, actress Cynthia Nixon was pregnant. She was lucky because the show incorporated her pregnancy into the story, resulting in baby Brady for her and Steve.
The actress was pregnant both on-screen and off-screen, playing Miranda Hobbes, who was trying for a baby with husband-to-be Steve. As an ironic coincidence, Sarah Jessica Parker also became pregnant during the same season.
Chandra Wilson
Chandra Wilson was pregnant during the shoot for Grey's Anatomy, and the producers went with something a little different this time. Season two had just begun, so they wrote Chandra's pregnancy into it. Fans loved the famous birth scene, so it was a great idea.
The hilarious birthing scene featuring George and Bailey has remained a fan favorite for many years. Additionally, it stood out from other pregnancies in the show as it was the only one in which the actress was pregnant in real life. These two and their birthing experience became a feature in the show and remained a highlight for a long time.
Melanie Scrofano
The producers included Melanie Scrofano's pregnancy throughout season two of Wynonna Earp. It wasn't until the fifth episode that it was revealed she was pregnant. Fans were quite stunned by the news. The best part is yet to come, though…
The show ran while Melanie was heavily pregnant, and she performed many stunts herself. Is that even legal? Melanie later explained, "It's awful being forced to hide anything when you're so conscious of it all… I feel like it would have harmed [the show]."
Vanessa Morgan
When Vanessa Morgan was pregnant with her baby, season five of Riverdale was already in the works. According to her Instagram post, she spoke kind words on the show's handling of her pregnancy: "Want to thank the showrunner and producers for their understanding & including my pregnancy in the show!"
In addition, Vanessa said she was "thankful that my body allowed me to work almost nine months pregnant." The news surprised her fans, and they were curious about how the show would be affected. It was a simple question about how the plot would change from its original idea.
Melissa Fumero
As an actress on Brooklyn Nine-Nine, Melissa Fumero had to film while pregnant, playing the leading female role, Detective Amy Santiago. However, it wasn't easy. "The swelling in my ankles was intense," recalled Melissa.
After wrapping up, Melissa said, "We had our baby five days later. My recommendation is to avoid it." Fortunately, the writers incorporated her pregnancy into the show. Her huge belly certainly wasn't hidden!
Teri Hatcher
Actress Teri Hatcher struggled on the set of Tomorrow Never Dies. Despite just becoming pregnant, Teri was experiencing pregnancy side effects. Pierce Brosnan was less than sympathetic, stating, "She annoyed me. She kept me waiting for hours."
He said, "I have to admit that I slipped a few words that weren't very nice." Teri didn't let this slide; the day they filmed opposite each other, her on-screen slapping of Bond had a little more oomph. Those were probably some pretty tense moments.
Chyler Leigh
During the filming of Grey's Anatomy, Chyler Leigh was pregnant. The actress played Lexie Grey, and the writers decided they didn't want to include her pregnancy in the story. Fortunately, they could cover her belly with wide-fitting hospital scrubs, but sometimes more was needed.
Consequently, they quickly threw a jacket over Chyler or had her hold objects or stand behind them. However, the actress also gained a healthy amount of weight during pregnancy, an event that the show attributed to "stress eating."
Naomi Watts
When Naomi Watts was filming for the thriller Eastern Promises, she was at the beginning of her pregnancy. She managed to hide it from the cast. However, she couldn't hide it from everyone, despite her efforts.
Due to the fatigue that comes with being pregnant, she began noticing changes in her body. It turns out that the director's sister designed the costumes for the movie, so she was the first to know. "She was the first to know since she designed the costumes," said Naomi.
Kristen Bell
In House of Lies, Kristen Bell's pregnancy wouldn't affect her character in any way; she was sure of that. To fool the audience, the director had to figure out what they would do to avoid the pregnancy being noticed.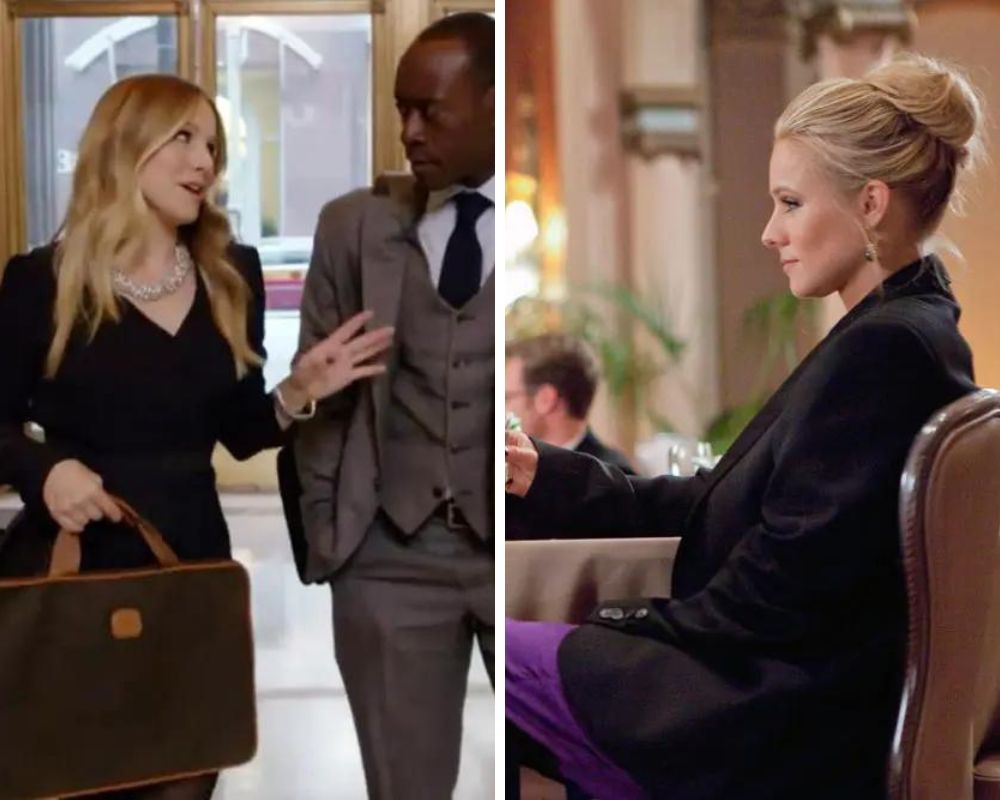 It wasn't solely up to costume and props, as Kristen was seven months pregnant then! Although she wore baggier clothing, they still removed the bump digitally with the help of CGI.
Alyssa Milano
In the second season of Mistresses, actress Alyssa Milano filmed while pregnant. She was pregnant with her second child. Explaining what acting was like, she said, "Keeping pregnancy a secret is like a Saturday Night Live skit."
She continued, "I keep getting bigger purses and bigger purses." The actress spent a lot of time hiding from the camera before throwing in the towel due to the change of filming locations. "I cannot abandon my children and split the family by moving away."
Ivana Milicevic
In the fifth season of The 100, actress Ivana Milicevic was pregnant, ironically right as her character Charmaine Diyoza was meant to die. As a result, the show decided to utilize the pregnancy and write it into the script, allowing her character to live longer.
Throughout the show's final season, her character remained alive. Ivana said, "Being a mother for three years allowed me to work on a great show." Pregnancy doesn't usually lead to increased earnings, but it did for her!
Charisma Carpenter
As a pregnant actress, Charisma Carpenter starred in Angel, a spinoff series of Buffy the Vampire Slayer. The show was in its fourth season, and they did everything in their power to conceal her pregnancy – until they couldn't anymore.
Jasmine, the Blessed Devourer, was born to Cordelia, Charisma's character. The actress then took to Twitter in early 2021, stating that director Joss Whedon had mistreated her due to her pregnancy, which led to her being dropped from the show. "It was hard to accept, but family comes first."
Chelsea Peretti
Chelsea Peretti and her husband, Jordan Peele, announced they were having a baby during season four of the show. Brooklyn Nine-Nine could've hidden the pregnancy but chose not to. In the end, the pregnancy was added to the show and added a new element of mystery. Chelsea stated, "It was a relief not to worry about hiding the bump."
Which man fathered Gina's child? Ultimately, it was revealed that Milton, Ryan Phillippe's character, was involved with Gina and fathered her unborn baby. Despite all of this, Chelsea's baby bump was somewhat concealed by loose comfy clothes on the show.
Amanda Righetti
When Amanda Righetti became pregnant, season five of The Mentalist was in production. However, since the writers weren't keen on including it in the show, Grace is often seen standing behind something or sitting down with her hands in front of her stomach.
Those watching the show agreed it was obvious. A bag, a box, and even awkwardly positioned water coolers covered Amanda's belly. Everyone watching could see how her body was changing. We're sure Amanda released a big sigh of relief when it was finally over.
Candice King
When Candice King announced she was expecting a child with her husband, Joe, The Vampire Diaries fans wondered how that would affect her character. The writers embraced it and included it on the show, which was a big surprise.
As the episodes continue in season seven, it becomes more and more evident that her baby bump is growing. According to her character, she became pregnant after having an affair with Alaric and was discovered to be pregnant with twins.
Anna Paquin
During season six of True Blood, Anna Paquin's belly had a large bump. This wasn't what the show wanted for her character, so a stunt double filled in when she was required to display her body. She told Todd Lowe at the time, "the double worked harder than needed."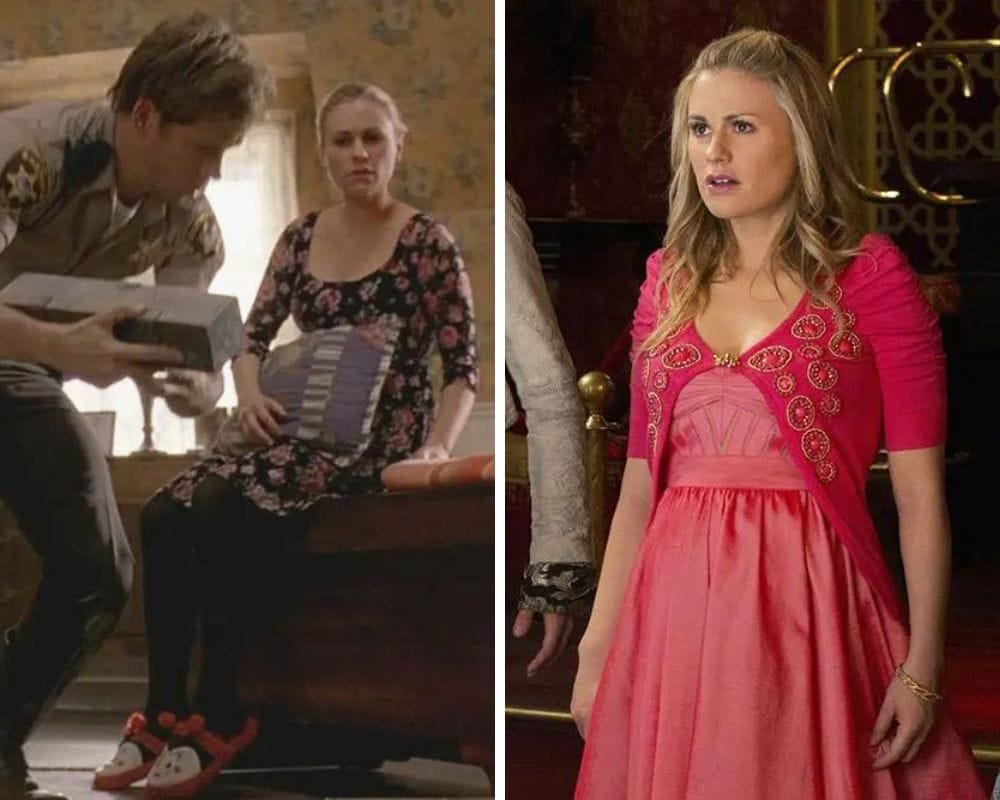 He said, "Yes, I am aware of that, and they are quite innovative with their staging and costuming." It was a season six spoiler, and the audience was shocked. Nevertheless, True Blood wasn't afraid to use a well-placed cushion, either; it would've been nice if they didn't make it so obvious.
Nana Visitor
It turns out Nana Visitor was pregnant while filming Star Trek: Deep Space Nine. Apparently, the writers didn't want her character, Kira Nerys, to have a baby in the show.
They explained that Kira's lack of a child after giving birth resulted from surrogacy. The pregnancy could be incorporated into the storyline and displayed visually without involving a child actor. Nana said, "I was scared I'd lose the job on the show for being pregnant."
Kaitlin Olson
In season six of It's Always Sunny in Philadelphia, actress Kaitlin Olson was pregnant for many episodes. Dee, her character, became pregnant too, so they decided to make several episodes about her pregnancy.
Kaitlin might've had an easier time working the show around her pregnancy than we initially thought. Her husband is the show's co-creator and executive producer, Rob McElhenney.
Betsy Brandt
During season two of Breaking Bad, actress Betsy Brandt was pregnant. This wasn't the case for her character, so she had to conceal it. It was funny to find out that Skylar White, the character played by Anna Gunn, was expecting a baby. Funny enough, Anna was required to wear a dummy baby belly.
The studio used numerous tricks to make Betsy's baby belly appear inconspicuous when she was on screen. They wanted to hide her belly no matter what, even if it meant staying behind countertops. The director got an interesting close-up when he needed Skylar's belly, which was Betsy's real one.
Jennifer Garner
Jennifer Garner found out she was pregnant while filming the fifth season of Alias, making it impossible to continue her action-packed role. Luckily, the show was more than happy to accommodate their star and they wrote Jennifer's pregnancy into her character, Sydney Bristow's, storyline.
Moreover, they gave her a proper maternity leave, which is pretty rare in Hollywood. When Alias returned after the hiatus, Garner was ready to perform crazy stunts again!
Angela Kinsey
During the shoot for season four of The Office, Angela Kinsey was pregnant with her first child. The show attempted to hide it, but one's chances of not knowing about the pregnancy are slim. Their methods of concealing her baby bump were borderline ridiculous.
She was always standing behind something silly, like a big swan ice sculpture that fans will remember well. When watching this part, many fans realized, " Wow, she's pregnant." Not because you could see the bump but because the attempt to hide her stomach was obvious.
Caterina Scorsone
During the year 2012, actress Caterina Scorsone found out she was pregnant. At the same time, she was filming ABC's Private Practice. The show's creator Shonda Rhimes, incorporated Amelia Shepherd's pregnancy into the story, preventing Caterina from needing to hide her belly.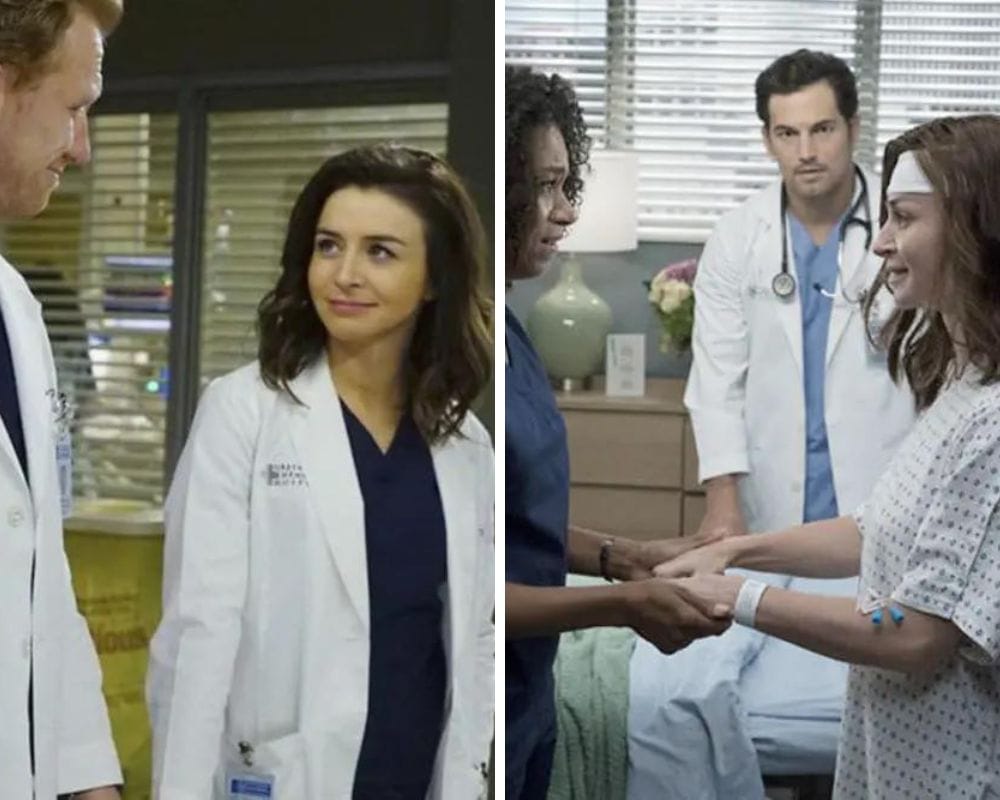 The child Caterina gave birth to in July 2012 was healthy and happy! But her character didn't fare as well… According to the story, she gave birth to a boy, but he was born ill and didn't survive.
Rachel Griffiths
Several episodes of Six Feet Under season three are missing Rachel Griffiths due to her pregnancy being too apparent on screen. She was expecting her first child but wasn't showing too much at the beginning, which would become a problem of consistency in the other episodes. The studio covered her stomach, so it wasn't noticeable.
Later in the season, she became pregnant again, which was written into her character arc. After a while, she got pregnant for the third time! However, the writers decided not to include another pregnancy in the last season.
Jill Scott
It's not just acting that Jill Scott does. The actress and singer also worked as a model and poet while filming No. 1 Ladies Detective Agency. In any case, it's very difficult to tell she's pregnant on the show since she wore loose-fitting clothes.
We were also distracted from her burgeoning bump by the clothes' patterns. We can't believe we didn't know she was expecting during season one! In April 2009, she gave birth to her son Jett and ended her relationship with his father two months later.
Phylicia Rashad
As Clair Huxtable, Phylicia Rashad played an important role during the '80s on The Cosby Show. However, it's worth noting that she was pregnant for most of the third season. She did say, "At times, it was hard." However, she got through it.
The sitcom's script avoided mentioning the actress's pregnancy. Despite this, they didn't conceal it well. She always covered her stomach suspiciously, typically with magazines and sofa cushions.
Parminder Magra
In the 15th season of ER, actress Parminder Magra discovered she was pregnant while filming. There were some pretty inventive ways the studio concealed her growing bump in 2008. That's just a joke; they used the usual, unimpressive "tricks."
In season 15, Parminder wears scrubs that are looser, with a large lab coat, and conveniently stands behind counters and tables. However, it was successful in the end.
Leah Remini
Leah Remini was pregnant while filming The King of Queens, season six. As luck would have it, her character was experiencing unemployment at the time. Thus, she could wear sweatpants and dress robes most of the time. Leah wears a fluffy, large bathrobe in several scenes. There were all kinds of colors in her collection as well!
A pink dress, a blue dress, a white dress – it didn't matter! Whenever she wore clothes, the designers made sure to hide her bump. We have no doubt those are the clothes she wore at home anyway.
Katey Sagal
While filming Married With Children, actress Katey Sagal discovered she was pregnant, and her announcement was completely unexpected. This pregnancy was written into the show, with more to follow. While portraying Peggy Bundy, Katey had three separate pregnancies. We're sure that's some sort of record!
Unfortunately, the baby didn't survive, and her character's storyline had to be rewritten. They decided to write that Peggy's entire pregnancy was just a dream. Thankfully, her subsequent pregnancies resulted in two beautiful and healthy children.
Rosamund Pike
Known for her role as Amy Dunne, Rosamund Pike plays the villainous character in Gone Girl. However, before that happened, she appeared in the 2012 film Jack Reacher. A lot of action scenes went into the movie, and the filming occurred while Rosamund was pregnant.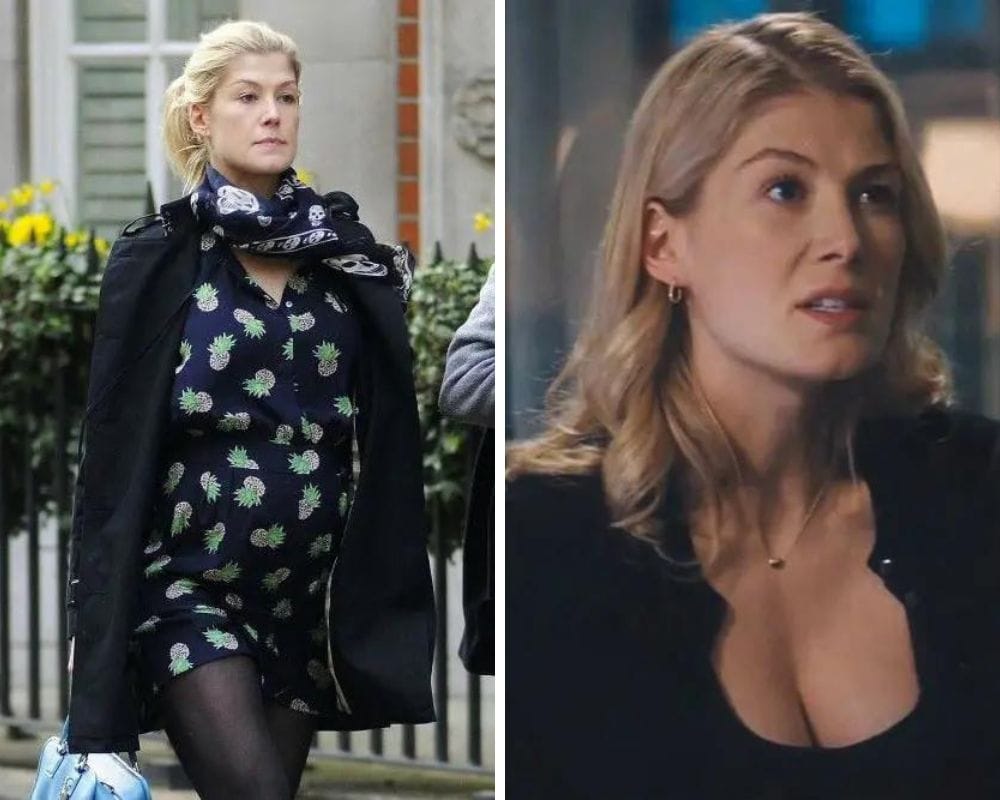 "It's amazing how chilled the baby came out. The world probably sounded truly terrifying to him," Rosamund revealed. Five months into the pregnancy, Mr. Cruise appears to have been a gentleman to his colleague. "I couldn't have asked for more support from him. There have been a few stars who have said, 'Get another. She's pregnant!'"
America Ferrera
Superstore's lead actress America Ferrera became pregnant in 2018, and NBC couldn't just send her away for a season. During season three, they brought her pregnancy into the storyline.
They must've thought it wasn't worth the fight trying to hide her pregnancy bump. The fact that America was an executive producer on the show may have contributed to this.
Melissa Rauch
Having Melissa Rauch absent from The Big Bang Theory would've been a huge loss. That's why we're thankful the show wrote her pregnancy in. Howard and Bernadette were expecting their first child together.
Tragically, as the actress was filming the show, she suffered a miscarriage. Luckily, she got pregnant again shortly after and had a beautiful and healthy baby!
Megan Boone
Six months into her pregnancy, actress Megan Boone continued to shoot NBC's The Blacklist. Fortunately, her character was also pregnant, so she didn't need to hide behind anything.
There was a stunt double hired for Megan when the scenes were too intense. Being so close to giving birth, it was a good idea to do so. Eventually, they removed her character from the show to accommodate Megan's maternity leave.
Cobie Smulders
The show poked fun at the fact that they were trying to hide actress Cobie Smulders's pregnancy in How I Met Your Mother. Upon sitting down, she either had her purse on her lap or hid her belly behind an overhanging lampshade.
They also put her in baggy and chunky clothes to conceal Cobie's growing baby bump. There was also a time when they hid her behind a fruit bowl. As for other major plot lines involving Cobie's character, filming was delayed until later in the season. Apparently, she ran out of things to hide behind.
Michelle Pfeiffer
When Michelle Pfeiffer was filming Dangerous Minds in 1995, she had a tiny frame. While filming, she was carrying her baby boy John Henry. Even when she wore loose-fitting clothes, it was obvious that she was pregnant.
She relied on more than just her wardrobe to conceal her belly. The costume department got a break by using specific camera angles and close-ups. The final result was pretty good, despite her having the most screen time; she was the lead actress after all!
Ginnifer Goodwin
Actress Ginnifer Goodwin had a spot of good luck when filming a few scenes for Once Upon a Time. She was pregnant with her co-star/husband Josh Dallas's baby at the same time that her character was pregnant too! The couple had met on set, so the whole thing was a pretty full-circle moment.
Most of her scenes didn't require concealing her bump. However, her bump had to be hidden when they showed flashbacks. And for that, they relied on big, billowy clothing that did a questionable job. Still, we got the point.
Alanna Masterson
Actress Alanna Masterson had commitments to keep when she found out she was pregnant in 2015. She was a recurring character portraying Tara Chambler on The Walking Dead, and the writers refused to include her pregnancy in the story.
Even though her pregnancy wasn't written into her character's story, this doesn't mean they had a clever way of concealing her pregnancy. The show used a variety of props; Alanna would sometimes sit backward on a bar stool, and a dish rack would sometimes hide her.
Gillian Anderson
During the second season of The X-Files, actress Gillian Anderson was given the strangest storyline to explain her baby bump. FBI agent, Scully, was kidnapped and abducted by aliens, where she was allegedly experimented on, and that's what resulted in her character's on-screen pregnancy.
It's unique; we'll give the show that. But it's also slightly creepy, if not disturbing. Gillian was terrified of telling the producers she was expecting and for a good reason! They considered recasting her character before choosing to stand by the actress.
Alyson Hannigan
During the production of season four of How I Met Your Mother, actress Alyson Hannigan was heavily pregnant. They didn't want that story for her character, so they used cheap methods to hide the baby bump.
Besides hiding her behind instruments, basketballs, big bags, globes, and even a cooler, one scene allowed the audience to see Alyson's stomach. As Alyson won an eating contest, the show pretended she was full! Not many viewers fell for that one. What a silly idea!
Jessica Capshaw
Actress Jessica Capshaw had to carry on acting during the seventh season of Grey's Anatomy even though she was carrying a child. It's particularly funny, considering how her character Arizona was staunchly against having children herself. Thus, there wasn't any way they could write Jessica's pregnancy into the show.
The writers decided to send Arizona off to Africa for a little trip. She still had scenes to film before she left, though, and for that, the writers deferred to the costume and prop department. You guessed it: Jessica was wearing loose, flowing clothes and suspiciously holding big boxes.
Keri Russell
Actress Keri Russell became pregnant in 2016 while filming season four of The Americans. She was dating her co-star Matthew Rhys, but the writers still didn't want to write the pregnancy into the show. In the end, they used the usual tricks of the trade to conceal her baby bump.
Her partner Matthew later explained in an interview that he and Keri approached the writers about their big news. "They went, 'You know what, we're going to stick with what we wrote, and I'm sorry to say, you'll be wearing big coats and sitting holding laundry.'" And that's exactly what Keri did on the show.
Morena Baccarin
Actress Morena Baccarin wasn't worried when she became pregnant while filming Homeland's season two. They could've brought in a plot twist that'd given her less screen time. However, her character became a focal point of the season instead.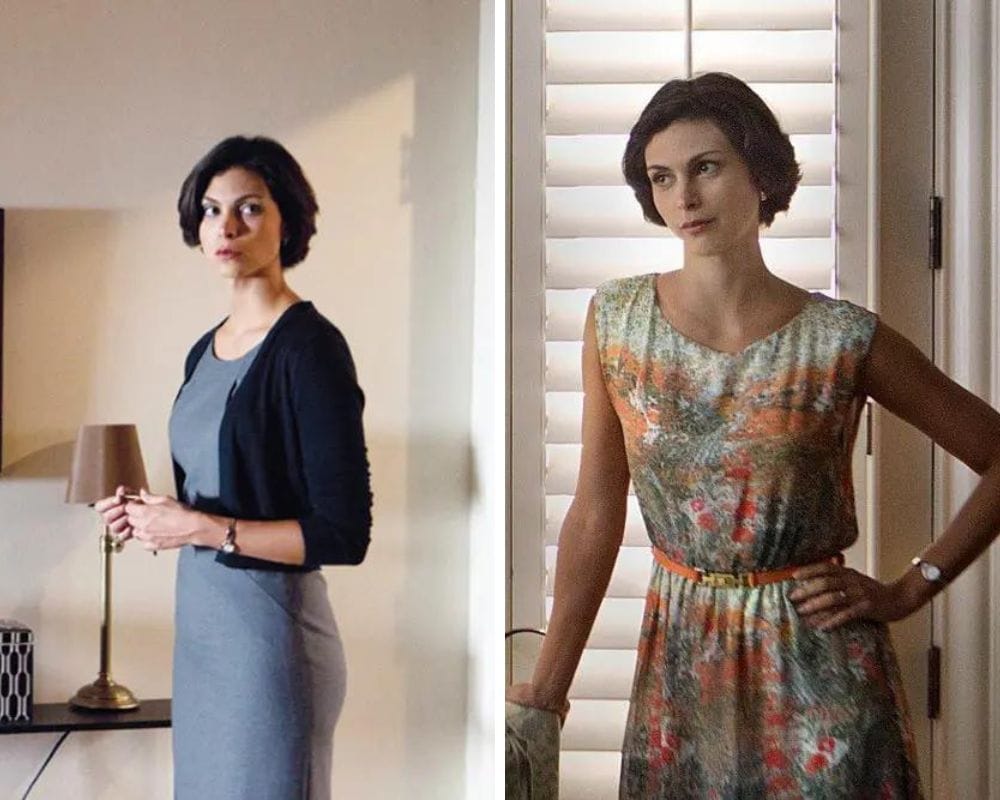 Luckily, she wasn't showing too much at the time. However, during those moments when it was more obvious that there was a baby on the way, the post-production team came in extra handy. They got rid of her burgeoning bump in the scenes where you see her whole body.
Mandy Moore
Actress Mandy Moore was pregnant while filming This Is Us, which could've easily posed quite a challenge. Mandy needed to portray the younger and far older versions of Rebecca Pearson, so there was no way she could be seen with a baby bump. She was playing a grandmother after all!
Before the season's release, Mandy admitted, "Rebecca will probably carry oversized bags and laundry baskets during the next few months." She was right, essentially. The costume department also gave her loads of layering fabrics and loose-fitting clothes to hide the baby bump.
Zooey Deschanel
In the fifth season of New Girl, actress Zooey Deschanel revealed that she was pregnant during filming, which was not a secret for long. It was decided that Jess would have to sit behind a wooden half-wall in a new plotline. It was jury duty for Jess, and that was it. Additionally, the show makers unveiled another trick.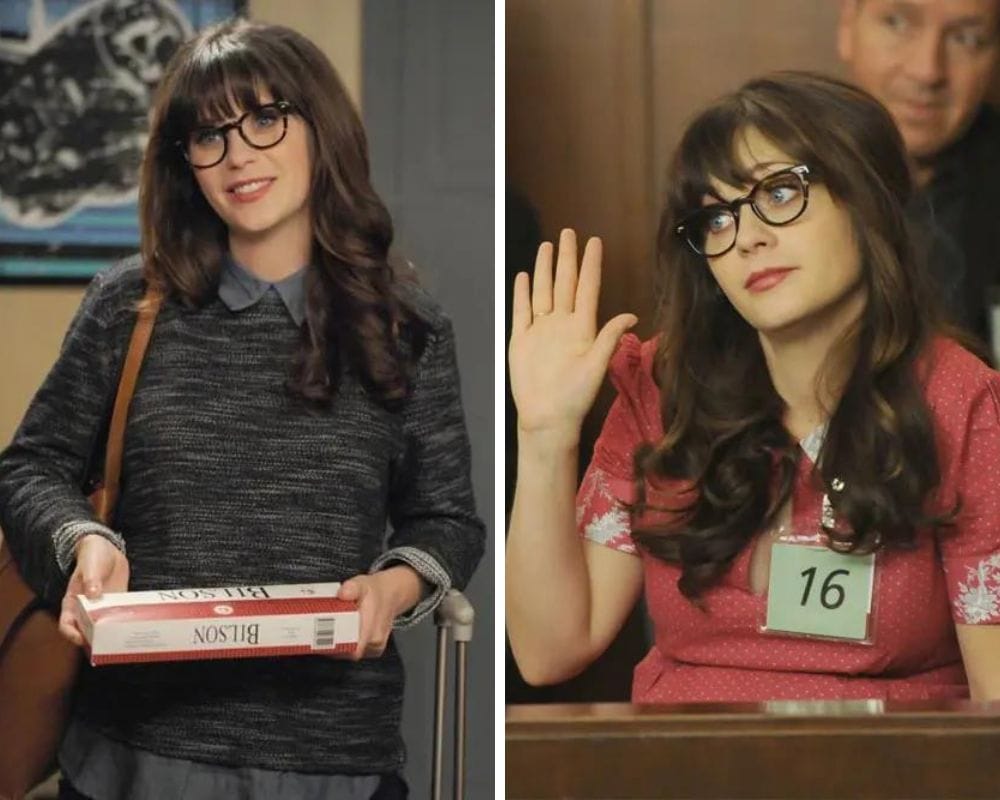 The actress Megan Fox was a replacement for Jess during her jury duty to distract viewers from Zooey's maternity leave. However, Zooey rejoined the show within a few weeks of giving birth.